Description

PLAY BADMINTON ANYWHERE!
Utilize the Badminton Solo Training Device to stay ahead of the game. It allows you to sharpen your skills without needing the help of a partner. The setup process is extremely easy and can be done anywhere in a very short time.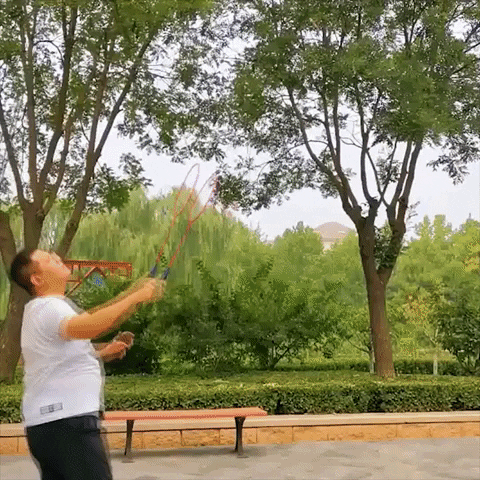 Thanks to this great product, playing alone will now be possible. Partners won't always be available when you want to play and this is when this device comes in handy. It lets you play alone whenever you feel like it.
GOOD TRAINING MATERIAL -

 

Suitable for both beginners and experts conditioning! This training set helps to develop speed, agility, and coordination of every player. 
ADJUSTABLE ROD & STABLE WATER BASE - It is composed of an aluminum adjustable telescopic rod and stable water-filled bases. The ball is tied up to a highly tough and elastic line that will keep on swinging back after each smash. 

HANDY & PORTABLE - This training set is very handy. You can carry this to your training place anytime.
A FULL-BODY WORKOUT - The rapid movements, jumps, smashes and crunches while playing badminton will help build up your muscles to make them leaner, stronger and fitter in no time. It tones the legs, calves, glutes, and quads, as well as the core, back, and arms.

DEVELOP BACKHAND and REBOUNDING SKILLS

 

- This is a training set for badminton players to learn how to smash and hit the ball

 each time it comes to you. 

It is perfect for solo badminton play & practice to e

nhance eye vision and sharpness. 
Specifications:
Material: Plastic, Metal
Rod Height (Before Telescoping): 67 cm / 26.37 Inches
Rod Height (After Telescoping): 340 cm / 133.58 Inches
Base Height: 9 cm / 3.54 Inches
Base Width: 21 cm / 8.26 Inches
Includes:
3 x Plastic Base
1 x telescopic Elastic Rod
40 x Elastic Line
1 x Adapter
Payment & Security
Your payment information is processed securely. We do not store credit card details nor have access to your credit card information.